Indianapolis Amenities
Any technology-based company interested in forming strong ties to Purdue University will be considered for park tenancy. Startup ventures may wish to lease space in the park's business incubation complex, which is designed to nurture new companies through their initial stages. Satellite offices of larger firms may want to take advantage of cost-effective, incentive-bundled alternatives offered by the park. Established companies may opt to build their own facilities in the park or they may consider a land lease arrangement.
To access the park's many services, contact our professional services team.
All park companies (including incubator clients and affiliates) have access to:
Human Resources Services

— PRF division that provides employee recruitment and training services and job fairs

Communications and Marketing — PRF division that provides media relations assistance and marketing consulting
Information Systems — PRF division that provides technical assistance and consulting
conference rooms and affiliated services, including two-way video conferencing
Purdue's expensive technical equipment under a "chargeback" arrangement; Purdue libraries
Purdue students for co-op programs, internships, field experiences and part-time employment
consulting opportunities and research partnerships with Purdue faculty/staff
networking opportunities with "Parties in the Park," wellness fairs, seminars, etc.
arrangement for purchase of small quantities of chemical and metal goods from Purdue
membership with Purdue Federal Credit Union
on-campus parking permits
Incubator clients benefit from access to:
attractive rental rates, flexible leases and space that grows with your business
complete laboratory facilities
high-speed internet connection at economical rates
shared office services including receptionist/secretarial support
computer, laser printer, copier, fax and postage meter
exterior and interior suite identification and signage
building security, basic utilities and janitorial services
break room with microwave oven and refrigerator
plentiful parking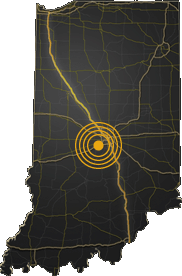 Purdue Research Park of Indianapolis, IN
Once known for automotive manufacturing, motor sports and pharmaceuticals, "Indy" is an emerging leader in logistics and life sciences within the new economy. Nicknamed the "Crossroads of America," Indianapolis is a logistics and transportation hub. Global companies prize the region for its strategic location, highly skilled workforce, world-class universities and low taxes.
Regional Advantages
75% of U.S. population are within a day's drive
Offers convention and dining amenities, sports events and museums
Home of the Indianapolis Motor Speedway and annual Indy 500 race