Opportunity Zone: Placemaking at Purdue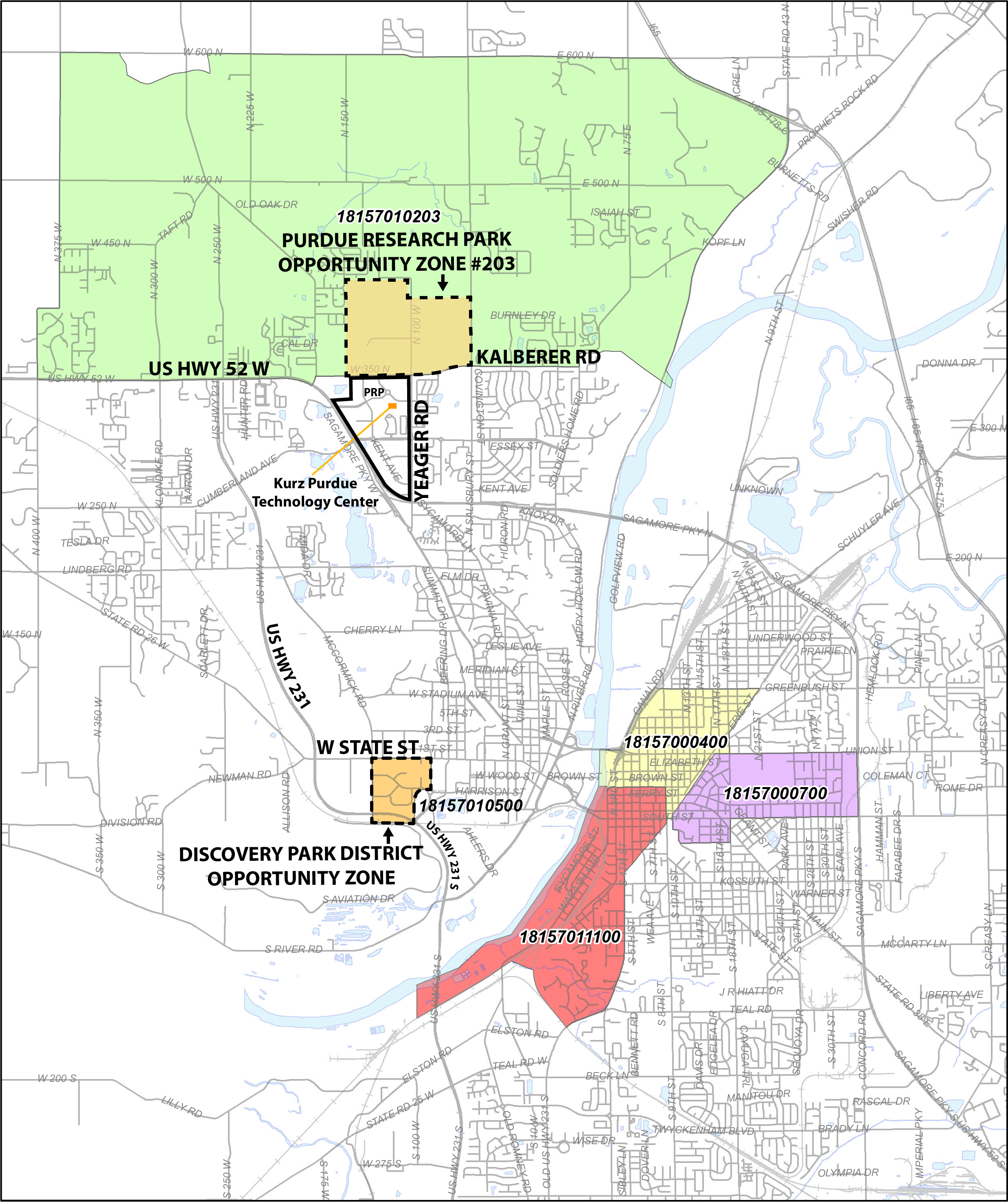 The 2017 Tax Cut and Jobs Act, a bold community development program was established targeting investment in "Opportunity Zones" across the United States. To stimulate private investment, Congress passed legislation allowing favorable capital gains tax incentives to investors in Qualified Opportunity Zone Funds. Governors from all 50 states have now designated 8,700 Opportunity Zones across the country. Nevertheless, not all opportunity zones are created equal.
Just 30 university towns across the U.S. have designated Opportunity Zones.
Purdue University in West Lafayette, IN is one of these select few with not one, but two Opportunity Zones.
The first Opportunity Zone is a 128-acre site nestled in Discovery Park District. The District is designed to accommodate mixed-use office, laboratory, retail, commercial, residential and research expansion. Purdue and the City of West Lafayette have invested more than $1 billion in research facilities and redevelopment in and around Purdue, and in 2017 Purdue Research Foundation launched this $1 billion+ development project.
The second Opportunity Zone is located in the Purdue Research Park of West Lafayette. The Purdue Research Park is the largest university-affiliated business incubation complex in the U.S. Located just five miles north of Purdue University, the Park is home to over 230 high-tech companies. Of the 725-acre park, 322 acres of shovel-ready land shown north of Kalberer Road in the below graphic is designated an Opportunity Zone.
To download the Opportunity Zone map, click here.
Benefits of Opportunity Zone Location and Investments
Locating startups to take advantage of the benefits of residing in a Qualified Opportunity Zone
Investment opportunities through Qualified Opportunity Zone Funds in real estate development
Investment opportunities through Qualified Opportunity Zone Funds in operating businesses located within the Opportunity Zone
Funding opportunities through Qualified Opportunity Zone Funds for eligible startups operating within an Opportunity Zone
Funding opportunities through Qualified Opportunity Zone Funds for eligible existing companies operating within an Opportunity Zone
For the Qualified Opportunity Zone Fund investor:

Deferral of taxable gains on invested dollars
Step-up in basis for gains re-invested in Qualified Opportunity Zone Funds
Exclusion of long-term gains
Benefits of Discovery Park District and Purdue Research Park
Join the highly innovative entrepreneurial ecosystem commercializing Purdue technologies
Ready for real estate, startups and relocated or expanding companies investment NOW
Eligible existing companies and startups could receive funding through a Qualified Opportunity Zone Fund
Access to world class research capability and university resources
Access to highly-skilled faculty, research and student talent
Strong corporate collaboration networks and consortia
Designed to support corporate research, office and production
Vibrant live, work, play and learn environments
Convenient access to public transportation and airports
In Summary
Purdue Opportunity Zones provide extremely attractive development opportunities given their proximity to a world-class research university like Purdue. With ready access to talent (faculty and students), leading-edge research infrastructure (labs and research centers), a network of collaborators (companies and consortia), and unique assets and capabilities (airport, aviation and manufacturing districts), these Purdue Research Foundation properties will support projects that include traditional real estate development, but can also include investment in startups, business expansion and highly innovative research capabilities. Discovery Park District and Purdue Research Park are fully fleshed out plans with successful track records that make Purdue's Opportunity Zones the right location at the right time.
Purdue Research Foundation Contact
David Broecker, Chief Innovation and Collaboration Officer
Email: dabroecker@prf.org